Shelties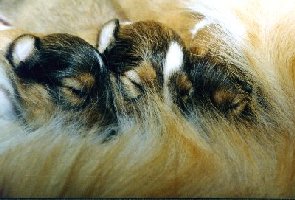 Even though I started with Shelties, I only had one dear pet, Ansu, at home. I just recently lost her at 16 years of age. She has got very special place at my heart, but her lines are not used for breeding. Her dam Cindy was the first dog I ever bred from. That started my interest in the dog world 20 years ago, when hardly a teenager myself.
My breeding is based on a shaded sable bitch "Frida", Doing Free Choice, who lived in breeding terms. Out of her two litters we have got "Lulu", Int & Nord Ch Pikkupaimenen Just a Joke, who became a Sheltie of the Year 1995 and "Pali", Fin Ch Pikkupaimenen Jet Set Pet. We also got a very special little lady "Wilma", Pikkupaimenen Jinglebells, who gained 2 CC`s at her first two shows at 9 months of age. Unfortunately she was injured in a car accident at 12 months, and has not been shown since.
Wilma got her one and only daughter in the beginning of July -97. Sire of our little "Emilia" (Fin Ch Pikkupaimenen Lemon Twist) is "Hampus", Int & S & N & DK Ch Moorwood Handsome Destiny. You can see full picture pedigree of Emilia.
The younger member of our Sheltie family is Ella, Pikkupaimenen Mozzarella, who is a daughter of Emilia. Emilia was born in March 2001. We hope that she will mature into beautiful little Sheltie girl. She certainly has got the self confidence required! Ella´s sire is Bermarks Buddy Holly.
In November 2002 we purchased sweet little Sheltie lady together with my aunt from Happy Masters Shelties. Please meet Essi at her own page, that will be updated over the years as she will grow and mature.
More Sheltie news planned for the year 2003. We mated Emilia in March to a young, handsome Norwegian fellow Lanza, who originally came from Great Britain. The two girls, Anu and Essi (yes, she too :-) can be met at their puppy pages.